RV Sponsors PT Pub Night for MO Students
Last year we welcomed hundreds of students to Omaha for the National Student Conclave, and got to know many of them at the corresponding PT Pub Night event, sponsored by RehabVisions. We were thrilled to hear our hosting made an impact on two Missouri students, who recently asked us to sponsor another evening in Springfield, MO for their fellow PT and PTA students at Southwest Baptist University and the Ozark Technical Community College.
Around fifty students from those two colleges, as well as Missouri State University and the University of Missouri, were in attendance throughout the evening. They had the opportunity to talk with recruiter John LaPesh and learn about our company culture and job opportunities, and many were introduced to our sister company, Cariant Health Partners via recruiter Carrie Anglim. At the same time, they were able to speak with three of our Missouri therapists (Brenda Kreuter, PT, Kelly Lucas, PTA and Larry Parks, PTA) and gain valuable insight into their chosen careers.
The event also doubled as a "Check-in Challenge" to support Team Red, White and Blue, an organization benefiting military veterans.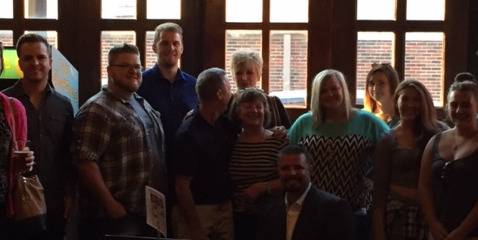 Many students were gearing up for their clinical rotations. We enjoy supporting and connecting with the future generation of therapists, and look forward to staying in touch at career fairs, or perhaps even welcoming students from these four schools into our own facilities as clinical students.
We had an excellent second experience with PT Pub Night, and left Springfield knowing we met many new RehabVisions advocates.
Had such amazing time last night! Thanks @RehabVisions @Cariant and @417Tap! Already looking forward to the next one https://t.co/bTYHplL6ui

— Matt Nape, SPTA (@MattNapeSPTA) July 31, 2016
@RehabVisions @PTPubNight @MattNapeSPTA @Cariant Thank you all for making Saturday possible. It was a blast and each of you are top-notch!

— Micah S. Smith, SPT (@MicahSSmith) August 2, 2016
Save