RehabVisions partners with Cariant to form internal travel team
Are you a physical therapist, occupational therapist or speech therapist looking for a new professional challenge or fun adventure? At RehabVisions, we are always seeking new ways to meet the staffing needs of our facilities. To help combat the nationwide staffing shortage, we are partnering with our sister company, Cariant to create an internal travel team. The team will help launch new business and provide temporary coverage in our existing locations.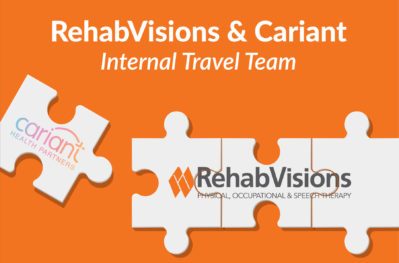 Therapists on this team will have the benefits of a travel position with the security of working for an established company. You will be part of creating the foundation for our internal travel team and will get to travel to different facilities within one organization. What does that mean for you?
Better pay
No pay drops mid-contract
No cancelled contracts
Guaranteed hours
Consistent culture
No credentialing every 13 weeks
Opportunity to work in a variety of settings
Reasonable productivity requirements
Consistent EMR systems
There is also an opportunity to learn the management side, which is extremely important if you are considering a career as a director or clinic owner one day.
When you join our internal travel team, you get the best of both worlds as a traveler and a seasoned employee. This means you can spend more time doing what you do best – providing the best patient care possible. If you are interested in learning more about this opportunity, please contact. We look forward to hearing from you!