Hip Surgery Gives PTA New Perspective
Six weeks from his own bilateral hip replacement and Gary Scott, PTA, who works for RehabVisions at an Iowa hospital, has seen things from the other side.
"It was good on-the-job training," he said.
Gary is back at work in the therapy department part-time waiting for his physician to give the go-ahead to return to work fully. Meanwhile he's doing PCPs (physical capacity profiles – post-offer testing) and using the therapy gym to complete his own recovery regime.
After the surgery, he came in for a couple of visits with Rehab Director Ryan Legg, PT and has some of the therapists stretch him, but otherwise he's handling his own therapy.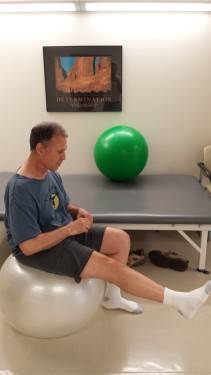 Ryan said Gary made a good patient. "Gary is extremely body aware," he said. "He knew what he needed and he communicated it well to us."
Gary admits he pushes himself when it comes to his own therapy. "Maybe a little too much sometimes," he said.
He said there were a few things he learned from being a joint replacement patient that will aid him as a clinician. "I think there are some things we can teach patients before surgery—mental aspects and preparation," he said. "I used visualization and that helped me." He also mentioned getting some of his other body systems prepared for the six-hour surgery like swimming and doing a liver detoxification. "I think all of those things helped so I could be sitting up right after the surgery."
Not every patient has the opportunity for a pre-op therapy consult, but this hospital and many others have "Joint Camp" workshops to prepare people and share expectations before their procedures.
Gary is just happy to be walking to work again and happy to be riding his bike and lawn mower the right way. "It's hard to mow three and half acres sitting sideways," he said.