Backpack Safety Awareness
The American Occupational Therapy Association's (AOTA) National School Backpack Awareness Day is held on the third Wednesday of each September. The AOTA provides strategies for hosting backpack events as well as handouts, artwork and videos that therapists can use to promote awareness for backpack safety. AOTA member Jordyn Braun, COTA is leading the backpack safety awareness charge at RehabVisions' outpatient clinic in Dickinson, North Dakota.
"It is estimated that 23,000 people go to the emergency room each year because of injuries related to backpacks," says Jordyn.
The Dickinson clinic is hosting a week-long event to promote backpack safety awareness from September 11th through the 15th, to ensure all patients have the opportunity to bring in their backpacks. Each day, patients will be weighed with and then without backpacks to check that their backpack weighs no more than 10 percent of their body weight. Heavier backpacks may cause back injuries, trips or falls. Jordyn will also speak with parents about making sure children are packing and wearing their backpacks correctly.
Each participant will be provided the AOTA's "1, 2, 3's of Basic Backpack Wearing" handout and a participation sticker. Jordyn is also providing the handout to nearby schools so it is available for educators to provide to students and parents.
To provide awareness of backpack safety in the community, the clinic will run an ad in the newspaper with information on backpack tips and injury prevention, and they will also mention their week-long event.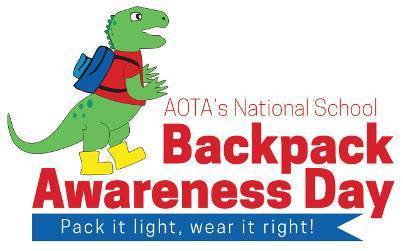 Resources to host your own backpack day event can be found on the AOTA website: