Therapist Finds More Than a Job with RehabVisions
I initially spoke with Ceri in September 2017. Originally from California, Ceri was going to school in Kentucky, and at-the-time attending a clinical in Sugarland, Texas. Expecting to graduate in May 2018 as a speech-language pathologist (SLP-CFY), she was looking for a quality employer. During our conversation, we spoke about her love for the outdoors, how she cared for her patients, and the multiple challenges she'd overcome. It was her personality, energy and spirit that led me to believe she'd fit well in Washington. She ended up accepting a position with our department at Kittitas Valley Hospital in Ellensburg, Washington.
Since then, we've stayed in touch. She maintains the energy and spirit I've admired since our first conversation. Recently, she messaged me for my birthday and included a bit of information that made me smile.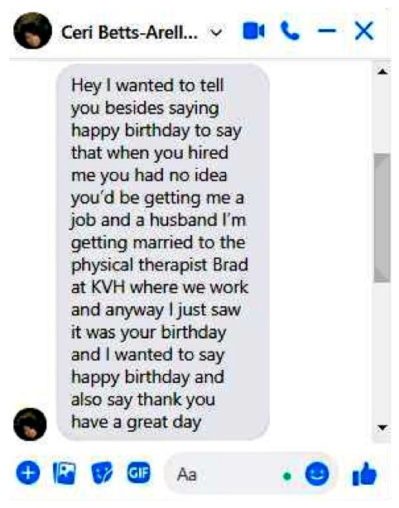 If you look at the top 10 toughest positions to recruit for, physical therapists, occupational therapists and speech-language pathologists rank seventh, eighth and ninth respectively. When you consider our locations are not in major metropolitan areas, it becomes even more challenging. Acquiring talent for RehabVisions, while advocating for our candidates and therapists in general, is fulfilling. One of the unspoken benefits we enjoy is receiving messages like the one above. It's a great reminder of the positive impact we can have.